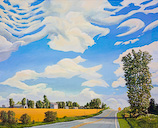 What is Eyekons Gallery
An Online Gallery of Original Art
Religious Art with Substance, Relevance & Meaning
Contemporary Christian Art
Eyekons Gallery is a source of Christian art with creative maturity and artistic integrity. It is religious art filled with substance, relevance and meaning. We offer the art for sale through our online gallery. It features beautiful porfolios of art along with information about the artist and their work.
Index of Artists: Exhibits, Portfolios, Writings
The Index of Artists is the hub of the artists resources. It showcases collections of art for sale along with portfolios, slideshows, artist's statements, bios and links to websites, blogs and galleries. It's an engaging educational resource for art collectors, art appreciators and students of Christian art.
Not Your Expected Religious Art
Eyekons features artists who explore religion, spirituality and social justice. They make religious paintings, Christian images, Biblical art, spiritual art, church art. Call it what you like, Eyekons is about a Christian vision finding visual expression. It's about original, contemporary art created through the unique eyes of faith.