2017 REFORMATION CALENDAR
Commemorating the 500th Anniversary of the Reformation
Calligraphy of Martin Luther quotes & Reformational Scripture
Includes important dates and events in Reformation history
2017 Reformation Calendar
Here I Stand - I can do no other

New Calligraphy by Tim Botts
• 6 Martin Luther Quotes
• 6 Reformational Scriptures
Each month includes:
• Reformation dates & events
• Commentary by Martin Luther
October 31, 1517
Martin Luther and the Day that Changed the World
On October 31, 1517 Martin Luther nailed his Ninety-Five Theses to the church door in Wittenburg, initiating a debate on how Christians read the Bible, govern the church, deal with earthly authority, receive the sacraments and how they confess sins and seek repentance in order to live a Christian life.
His focus was on the words of Jesus and the Holy Scriptures. Luther and the other Reformers brought the Bible to the people and opened up their understanding of how to live a Christian life in accordance with the Word of God.
Be inspired by Tim Botts's expressive calligraphy as he interprets pivotal
Reformation Scriptures & insightful portrayals of Martin Luther's most memorable quotations.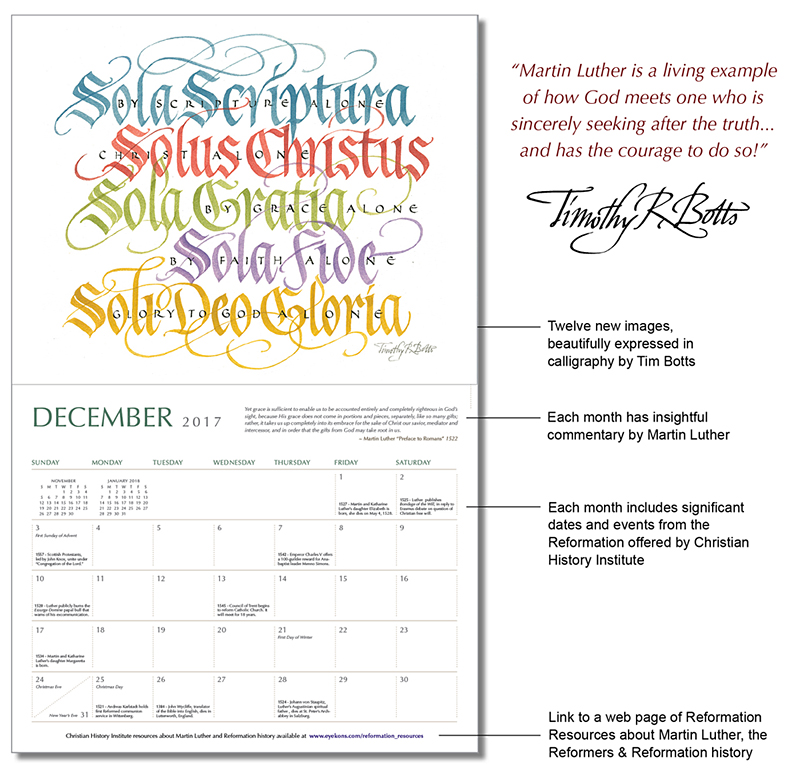 Martin Luther - The Accidental Revolutionary
On April 18, 1521 Martin Luther appeared before the Diet of Worms to defend himself against charges of heresy brought by the Emperor Charles V because of the ideas expressed in his Ninety-Five Theses, his books, his lectures and his sermons.
Johann Eck, representative of the emperor, asked Luther if he was ready to revoke the heresies he expressed in his writings and teachings? Would he stand by them or retract them? Luther then gave his now-famous answer:
"Unless I am convinced by the testimony of Scripture or by clear reason,I am bound by the Scriptures I have cited, for my conscience is captive to the Word of God. I cannot and will not recant anything, since to act against one's conscience is neither safe nor right.
Here I stand, I can do no other, God help me, Amen."
On May 25, 1521 Luther was declared a heretic and the reading or possession of his writings was banned. For his protection, Luther's benefactor, Prince Frederick of Saxony, brought Luther to Wartburg Castle. There he would translate the Vulgate Bible into German. The Scriptures were finally brought to the people. The Reformation had begun.
CLICK THUMBNAILS TO SEE THE IMAGES IN THE CALENDAR
2017 REFORMATION CALENDAR
Celebrating the 500th Anniversary of the Reformation