2020 CALENDAR
Christ in You
The Hope of Glory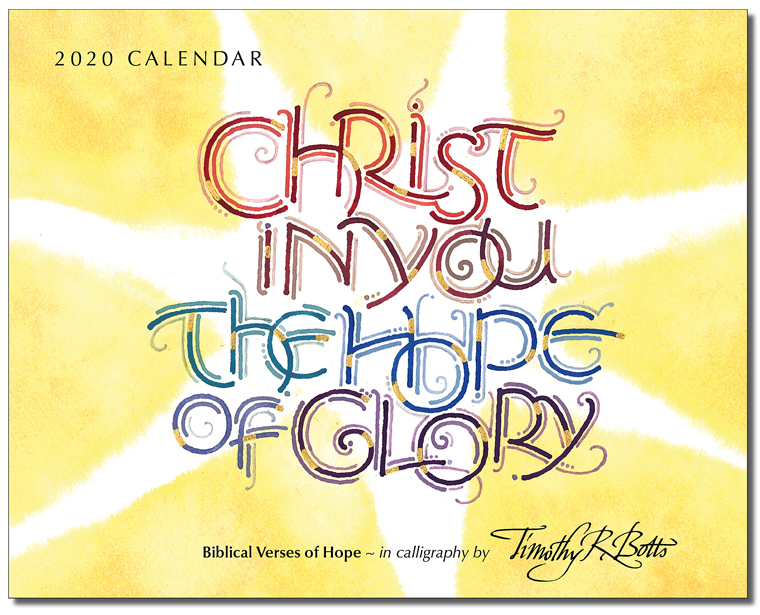 Christ in You - The Hope of Glory
It is this "source of hope" found in God's Word that calligrapher Tim Botts celebrates in this calendar. The theme is summarized by Paul in Colossians 1:27, "God chose to make known to all peoples the glorious riches of this mystery which is Christ in you, the hope of glory." Hebrews 11:1 tells us that, "Faith is the substance of things hoped for." Through his expressive calligraphy Tim illuminates the substance of that hope, showing how God, "has given us new birth into a living hope through Jesus Christ." It is upon this hope that our faith is founded.
In today's world we often feel surrounded by a strong sense of hopelessness. But if we turn to the Bible we find that God offers us a hope that is strong and trustworthy, that can be an anchor for our souls. God gives us a future with hope that fills us with joy and peace. Tim Botts creatively illustrates many of the Bible's most hopeful and hope-filled passages. His calligraphy becomes visual prayers that guide us to the hope to which God has called us.
Click thumbnail images to see the images in the calendar!
Christ in You The Hope of Glory