2018 CALENDAR
Prayer: The Poetry of the Soul
FAMOUS PRAYERS THROUGH THE AGES
Rejoice always,
pray without ceasing,
in everything give thanks;
for this is the will of God in Christ Jesus for you.
1 Thessalonians 5:16-18
Prayer: The Poetry of the Soul
This insightful advice from the Apostle Paul to the church in Thessalonica has provided guidance throughout the ages to Christians from all traditions. Prayer is a central, important part of all believers' walk in faith. As Paul reminds us in Romans 12, "Be joyful in hope, patient in affliction, and faithful in prayer."
Praying is how we have our "conversations with God," presenting our petitions, asking for forgiveness, and seeking his guidance. Mother Teresa insightfully reflects, "Prayer is putting oneself in the hands of God and listening to his voice in the depths of our hearts."
Presented here are 12 prayers from throughout the ages. Tim Botts, through his expressive calligraphy, offers up a visual testimony to the power of prayer, to the "poetry of the soul." His unique vision gives creative expression to some of the most memorable prayers from the rich history of Christianity. May these poetic prayers help you to "listen to God's voice in the depth of your heart" and respond to his call. As Mother Teresa says, "Listening is the beginning of prayer."
14 Prayers - New Calligraphy by Timothy R. Botts

JANUARY
FEBRUARY
MARCH
APRIL
MAY
JUNE
JULY
AUGUST
SEPTEMBER
OCTOBER
NOVEMBER
DECEMBER
Introduction
Introduction
"The Door of This House"
"Our Hearts are Restless"
"Christ Be With Us"
"Good Shepherd"
"Serenity Prayer"
"Three Things I Pray"
"Disturb Us O Lord"
"Come, O Holy Spirit"
"Be My Guide"
"Make Us Worthy"
"A Grateful Heart"
"An Instrument of Peace"
"Lord's Prayer"
"Jesus Prayer"
Bishop Thomas Ken, 1637-1711
St. Augustine, 354-430
Saint Patrick, 389-461
Soren Kierkegaard, 1813-1855
Reinhold Niebuhr, 1892-1971
Saint Richard of Chichester, 1197-1253
Desmond Tutu, 1931-
Christina Rossetti, 1830-1894
John Calvin, 1509-1564
Mother Teresa, 1910-1997
George Herbert, 1593-1633
St. Francis of Assisi, 1181-1226
Matthew 6:9-13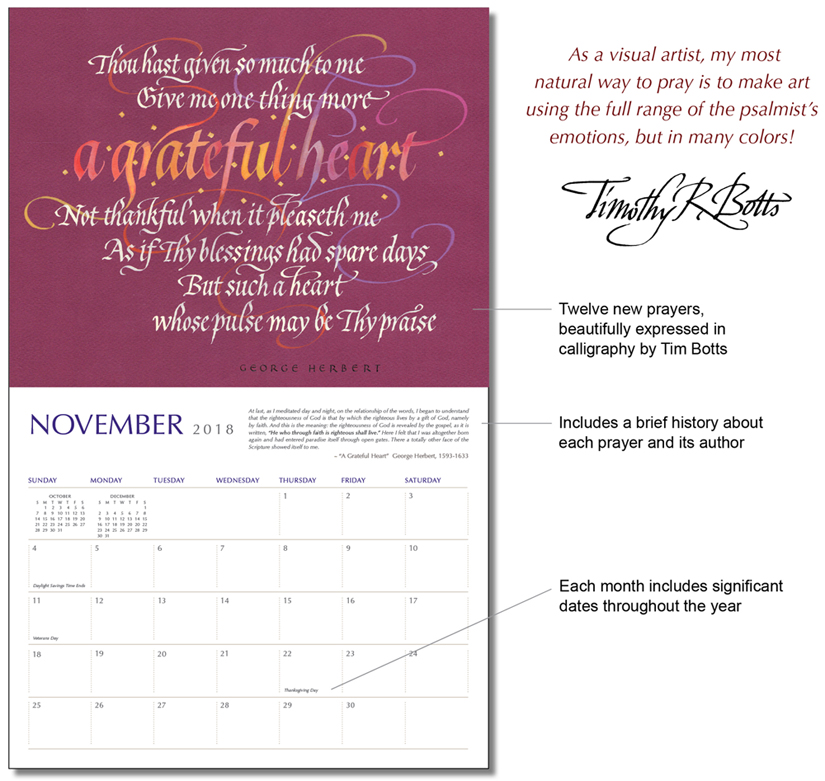 Click thumbnail images to see the prayers in the calendar!
2018 CALENDAR - Prayer: The Poetry of the Soul