Giclee Prints |
Laura James
A Beautiful selection of Giclee Prints - printed on Fine Art Paper, and signed by the artist. One of a kind - not offered anywhere else. Creatively inspired art, unmatched printing quality on 100% Rag Archival Paper - what's not to like! 100% Satisfaction Guaranteed! That's how nice these prints are!

Limited Edition Prints
EDITIONS OF 350 | SIGNED BY LAURA JAMES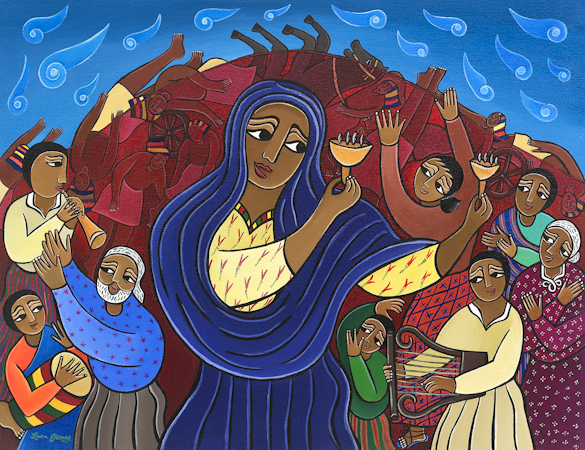 Miriam's Song - Sing a Joyful Noise Onto the World
20 x 26 Special Promotion $175 (regularly $300)
100% Satisfaction Guaranteed Delivered in 2-4 days

Miriam's Song
portrays Moses and Miriam singing a song of victory and praise after God led Israel out of Egypt and saved them by parting the Red Sea. Exodus 15: 19-21 tells the story: "When Pharaoh's horses, chariots and horsemen went into the sea, the Lord brought the waters of the sea back over them, but the Israelites walked through the sea on dry ground. Then Miriam, the prophetess, Aaron's sister, took a tambourine in her hand, and all the women followed her, with tambourines and dancing. Miriam sang to them:
Sing to the Lord, for he is highly exalted.
The horse and its rider he has hurled into the sea."
This familiar Bible story is told through a simple style with a complex composition. Miriam is brought to the foreground, elegantly singing and playing the tambourine. She is surrounded by musicians and dancers who all join in the celebration. But behind her lies the bodies and blood of the dead Egyptians who were destroyed by "the great power of the Lord." Above everything floats the spirit filled water that God used to guide and protect His people. In praise and thanksgiving Miriam and Moses sing to God, "In your unfailing love you will lead the people you have redeemed. In your strength you will guide them to your holy dwelling . . . The Lord will reign for ever and ever!"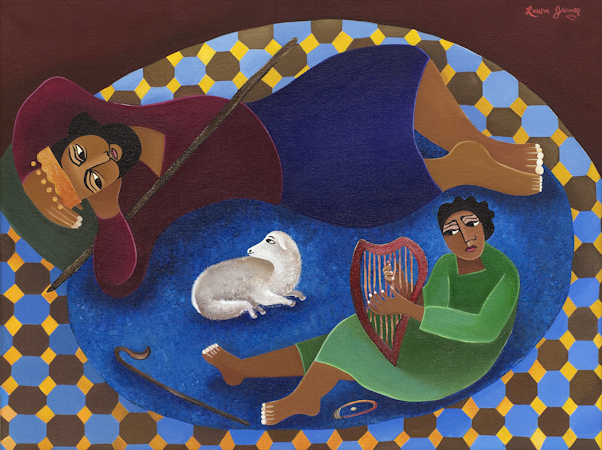 David Plays for Saul
18 x 24 Special Promotion $150 (regularly $275)
100% Satisfaction Guaranteed Delivered in 2-4 days

David Plays for Saul
is a visually poetic portrayal of the Bible story from I Samuel 16. David is called to play the harp to soothe Saul when an "evil spirit from the Lord" came upon him. Then "whenever the spirit from God came upon Saul, David would take his harp and play. Then relief would come to Saul: he would feel better, and the evil spirit would leave him." ( I Samuel 16: 23 )
The vibrant colors and beautiful composition lead to a deep sense of connection to the story. The rich palette and harmonious composition echo the soothing quality of David's harp. The viewer is able to share with Saul, the calming, peaceful quality of David's music and almost feel the evil spirits lift and go away. This creates a visual link to not only the narrative but the spirit and meaning of the story as well.
Giclee Prints
| Beautiful Reproductions at Affordable Prices
LEARN MORE