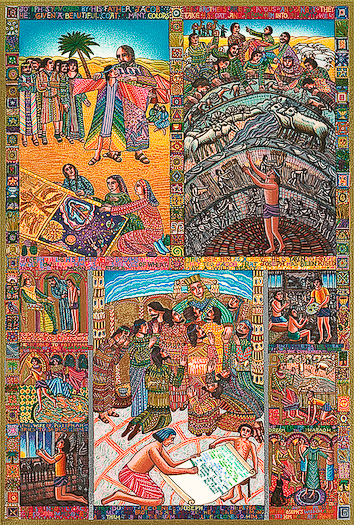 John August Swanson
HAND-PRINTED SERIGRAPHS

Story of Joseph
John August Swanson's serigraph of the Story of Joseph illustrates the long journey of Joseph's life as told in Genesis 37-50. He receives the coat of many colors from his father Jacob, he's sold into slavery by his brothers, seduced by Potiphar's wife, and then thrown into jail. He becomes known for his interpretation of dreams and rises to power in Egypt to finally be guided to resolution with his family. John Swanson writes, "The story moves me in understanding our journey in life. Like us, Joseph had so much to learn, but had to suffer to gain wisdom and find his place in God's plan."
1986 | Edition of 200 | 34 Color Stencils
Image Size: 24" x 16"
Paper Size: 30" x 22"
Paper: 100% cotton rag, acid free
Free Shipping in Continential US!
Serigraphs delivered in 2-3 days, USPS, Insured, Signature Required
For any questions, or to learn more about John's art,