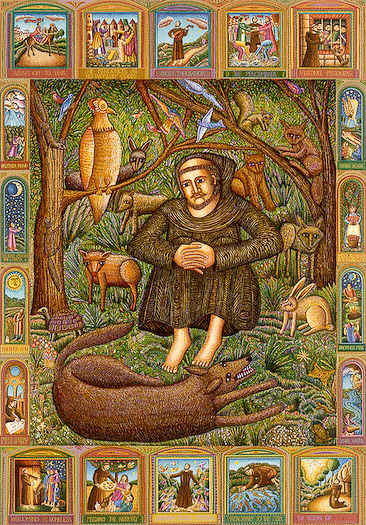 John August Swanson
HAND-PRINTED SERIGRAPHS

Francis and the Wolf
John August Swanson's serigraph Francis and the Wolf portray Francis encircled by wild animals with the wolf laying at his feet. The miniature scenes that surround him narrate his life and the serigraph depicts the time when the villagers of Gubbio, Italy came to Brother Francis for help with a wolf that had been killing their livestock. Francis responded by entering the woods and asking the wolf to live in peace with all creation. The wolf agreed. Swanson states, "The wolf is like our shadow side . . . the dark side we deny in ourselves and in our society. Until we are ready to embrace the "wolf" within us, it remains destructive. Francis enlightened us by treating the menacing wolf with kindness."
2002 | Edition of 225 | 48 Color Stencils
Image Size: 26" x 18"
Paper Size: 30" x 24"
Paper: 100% cotton rag, acid free
Free Shipping in Continential US!
Serigraphs delivered in 2-3 days, USPS, Insured, Signature Required
For any questions, or to learn more about John's art,