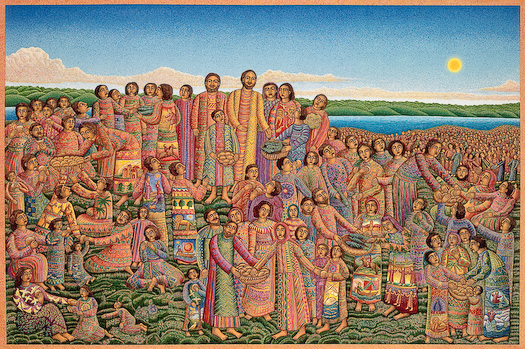 John August Swanson
HAND-PRINTED SERIGRAPHS

Loaves and Fishes
John August Swanson's serigraph of Loaves and Fishes portrays the miracle of Jesus Feeding the Five Thousand. A crowd clamors around Jesus. He gives thanks over five loaves and two fish. The food multiplies and all are fed. John wanted this image, "to honor native peoples in all parts of the world. Loaves and Fishes remind us of the basic needs of all humanity. We all share the need for food and providing for our families. If we take the view there is just enough of what we need to sustain the world; we urgently need to consider sharing the gifts God's given us."
2003 | Edition of 250 | 54 Color Stencils
Image Size: 24" x 36"
Paper Size: 30" x 42"
Paper: 100% cotton rag, acid free
Free Shipping in Continential US!
Serigraphs delivered in 2-3 days, USPS, Insured, Signature Required
For any questions, or to learn more about John's art,