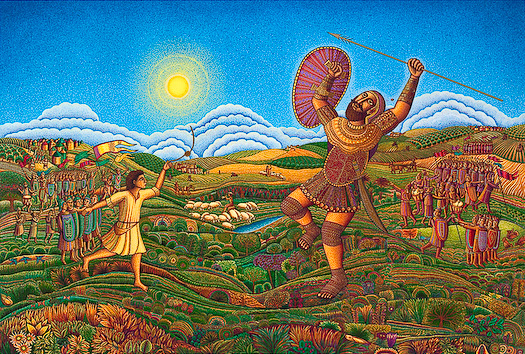 John August Swanson
HAND-PRINTED SERIGRAPHS

David & Goliath
John August Swanson's serigraph of David and Goliath portrays the young shepherd David slaying the Philistine giant Goliath as told in 1 Samuel 17. John depicts it "as a story that gives us strength to react against seemingly overwhelming forces. I believe this story continues today in the lives of people who speak out against those who would conquer. They empower us with their courage. They are humans who see oppression, war and suffering and refuse to accept the inevitability of its victory over us. God chooses the weak so as to confound the mighty."
2005 | Edition of 250 | 60 Color Stencils
Image Size: 21" x 31"
Paper Size: 29" x 39"
Paper: 100% cotton rag, acid free
Free Shipping in Continential US!
Serigraphs delivered in 2-3 days, USPS, Insured, Signature Required
For any questions, or to learn more about John's art,