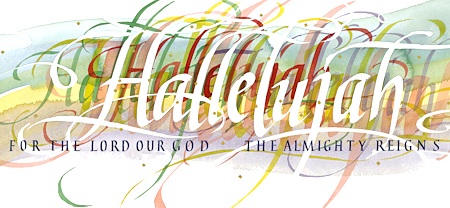 Timothy R. Botts |
Creative Scripture in Calligraphy
Timothy R. Botts studied calligraphy with Arnold Bank at Carnegie-Mellon University as part of his graphic design training. While teaching conversational English in Japan for three years, Tim was influenced by their rich culture of brush writing. He designed more than 600 books during his 40 years at Tyndale House Publishers before retiring in 2012.
Tim continues to create calligraphic works and to teach calligraphy. He is artistic director for Masterpiece Ministries, an outreach to high school students in the arts. He and his wife, Nancy, live in Glen Ellyn, Illinois and are the parents of three grown children and twelve grandchildren.
Historically, the tradition of calligraphy has been to celebrate the text by embellishing it. In addition to that worthy goal, I seek to portray the words so that the meaning is expressed visually - what I call word pictures. I make use of the principles of graphic design to aid in this communication - color, style, contrast, depth, symbolism and movement - to name a few.