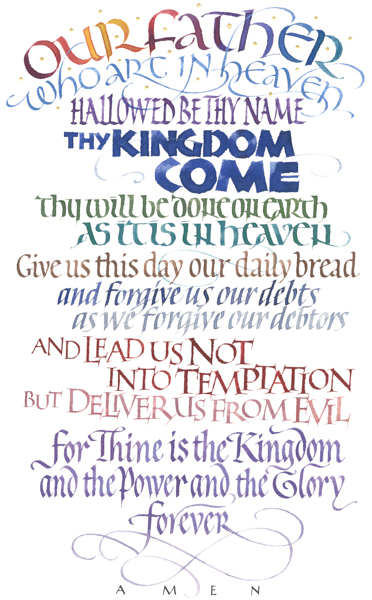 Timothy R. Botts
ORIGINAL CALLIGRAPHY

Lord's Prayer
Matthew 6:9-13
Our Father Who art in Heaven,. Hallowed be Thy name. Thy Kingdom come, Thy will be done, On earth as it is in Heaven. Give us this day our daily bead. And forgive us our debts, As we forgive our debtors. And lead us not into temptation, But deliver us from evil. For Thine is the Kingdom, And the power, And the glory, For ever and ever. Amen.
The Lord's Prayer, taught to us by Jesus in his Sermon on the Mount in Matthew 6, is the most venerated prayer in history. It is the "prayer of prayers" that provides the model for how we should pray and it is shared and recited by Christians from all traditions
Original Calligraphy - 2017 | Size: 11" x 14"
Watercolor on Rag Paper with Deckle Edge | Unframed
Hand Embelished with Gold Details
Original Art delivered in 2-3 days, USPS, Insured, Signature Required
For any questions, or to learn more about Tim's art,