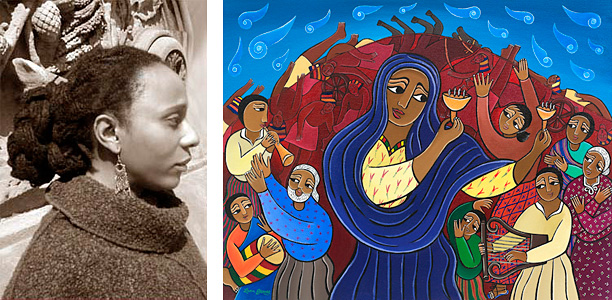 Laura James |
Ethiopian Iconography
Born and bred in Brooklyn, New York, Laura James is a self-taught painter of Antiguan heritage. Working as a professional artist and illustrator for almost twenty years, Ms. James is best known for her illustrations in the Book of the Gospels lectionary published in 2000 by LTP on behalf of the Roman Catholic Church. An award winning edition of the four gospels, it includes 34 paintings rendered in the Ethiopian Christian Art style which over the years Ms. James has made her own. The book is used worldwide by numerous Christian denominations and her religious art is at the forefront of the movement toward a more inclusive representation of Biblical figures.
Laura James is also an award winning artist of secular works. She paints women, families, and scenes of everyday life; blending intricate patterns, text, vibrant colors and sometimes surreal imagery into what she calls "art for the people".
This past winter Laura was honored by the College of New Rochelle's Castle Gallery when they presented a retrospective exhibition of her work. 15 Years: The Art of Laura James featured over 80 religious and secular pieces that fully displayed her unique vision.
Laura is currently working on a series of paintings titled Nannies and Other Mothers where sheattempts to shed light on a subject long neglected by popular culture. She tells the stories of countless women who leave their families to come to America, UK, or Canada in search of a better life, taking jobs as domestic workers. "Although Caribbean people are intimately familiar with the subject, we never talk about it." With this work Ms. James is trying to start the conversation.
Laura's work is widely collected and exhibited. Represented by Bridgeman Art Library for more than a decade, her images have been published in numerous publications and media. Interested in introducing art to young audiences, Laura has also presented many workshops for children at sites including the African Burial Ground and the Museum of the Bible in the Arts. Now working and residing in the Bronx Ms. James is a member of several art organizations, is very active in her community and has produced numerous cultural events, art exhibitions and film festivals.
"The highest honor an artist can receive is to have their art used in worship," explains Lara. He points out the Roman Catholic Church's "Book of the Gospels" is carried in procession by a deacon and incensed during worship. "Her women are full-breasted, of solid build, spirited, and sexual. Identified within biblical or contemporary narratives, James's women are leaders in the home, workplace, and community. Their activities extend beyond those usually associated with women of a particular experience: they fly, lay on beaches, swing, and entertain. In leisure time scenes, romantic encounters, and portraits, James depicts her feminine subjects in the world in which she and other women like her live. Her attention to the many frames of a woman's life are likened to artists Leonor Fini and Faith Ringgold (1930-)."