Steve Prince |
Printmaker, Sculptor & Instructor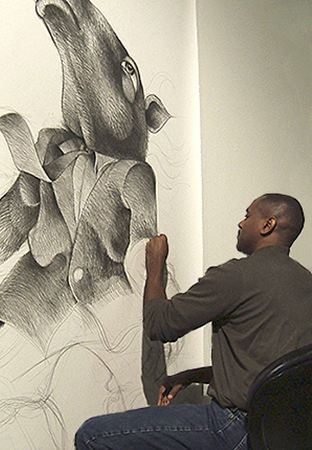 Steve A. Prince is a native of New Orleans, LA and resides in Silversprings, MD. He received his BFA from Xavier University of Louisiana and his MFA from Michigan State University. Prince is an educator and has taught privately, middle school, college, and is currently teaching at Montgomery College in Maryland. He has shown his art internationally in various solo, group, and juried exhibitions, at the Contemporary Art Center of Virginia, the National Gallery of the Bahamas, the Museum of Cultural Arts Center in Santa Catarina, Brazil, the Grand Rapids Museum of Art, the Portsmouth Courthouse Museum, Hampton University Museum, the Museum of African American Culture in New Orleans, Xavier University of Louisiana Gallery, Charles H. Taylor Art Center in Hampton, and the Peninsula Fine Arts Center to name a few.
Prince has created a number of public artworks, including a life-size bronze bust of 1967 Medal of Honor recipient Ruppert Leon Sargent in Hampton, Virginia, a 12' x 40' mixed media installation entitled "Fabric of Life" in Newport News, Virginia, a 4' x 24' woodcut entitled "Alexandria" in Alexandria, Virginia, a 3' x 30' woodcut entitled "All That Jazz . . . Making New Connections" in Richmond, Virginia and a 15' stainless-steel kinetic sculpture titled, "Song for John" in the Coliseum Central district in Hampton, Virginia.
Prince is the recipient of numerous awards and honors, including the 2008 Best in Show Award at the Charles H. Taylor Art Center "Artist's Who Teach Juried Show", the 2008 Steward School Artist in Residence in Richmond, Virginia, 2007 Best in Show at the Southeastern Virginia Arts Association Juried art show, Virginia Beach, VA, the 2007 Partners of the Americas Artist in Residence in Santa Catarina, Brazil, a 2006 and 2007 Trawick Prize semi-finalis the 2005 Creative Excellence Award of Virginia Career and Technical Education, the 2001 and 2004 Best in Show at the Contemporary Art Center of Virginia Beach, the 2004 Award of Achievement at the Peninsula Fine Arts Center Biennial, the Images 2006 and 2000 Merit Award Winner at Pennsylvania State University, and the Outstanding Award of Merit from the Mayor of New Orleans in 1999.
In addition to being an accomplished lecturer in both secular and sacred settings, Prince has conducted workshops internationally. He has spoken at various colleges, community centers, museums, galleries, and addressed congregations of various denominations. Steve works primarily in the art forms of printmaking and drawing. He uses their black and white language with a remarkably original and innovative vision. The many rhythms of New Orleans cross-fertilized culture reflect themselves throughout Steve's art. The rich traditions of art, music, and religion pulsate through Steve's woodcuts and drawings. They rise up as metaphors and messages that guide the viewer into the depths of his expressive imagination. Steve's art becomes windows that lead you into new and unseen worlds. His work has been characterized by the New Orleans art critic, D. Eric Bookhardt, as "startling in its ability to elucidate inexplicable worlds within worlds, in what amounts to an almost unearthly scrimshaw effect."
It is Steve's faith that calls him to be an artist. His work is an unending exploration of that faith and it's relationship to his life, his culture and his community. To Steve, "We are all living epistles, whether we want to be or not." In "Urban Epistles," a series of prints that was recently exhibited in the Grand Rapids Art Museum, he visually interprets the thirteen epistles of Paul, recontextualizing them within a contemporary, urban framework. His work becomes an "open letter" to American culture calling them, "to acknowledge their role within the fabric of the American family and to redress race, representation, and education with a new raiment woven of respect, truth and equality."
"Metaphors, Messages & Windows Into Other Worlds" is an exhibit of the art of Steve Prince that features his most recent drawings and linocuts. The work explores Steve's perennial themes of growth and renewal. His art becomes a tool to battle the Social issues of violence, racism and social injustice that are consuming our culture. He describes his art as, "a conduit of God's grace, helping people make sense of their lives and realize that their actions have consequences . . . There's a lot of things we haven't dealt with in our soul, so I like to deal with them in my artwork." The result is art that is interwoven with social metaphors and symbolic messages. Steve says his art leaves the viewer with only two choices: "Look away in confusion or stay and look deeper."
He wants to take his message to the streets. That's where Steve's visual ministry is focused. That's where his church is. His art becomes a traveling evangelism show for our contemporary culture, providing answers for today's troubled world. But it also becomes a celebration; a celebration of that very broken yet extremely beautiful world. The art becomes a bridge to help people find their way from that brokenness to the beauty Steve so clearly sees.

Contact Us for: Exhibit & Speaking Opportunities and Original Art Purchases
(616) 235-2929 amy@eyekons.com