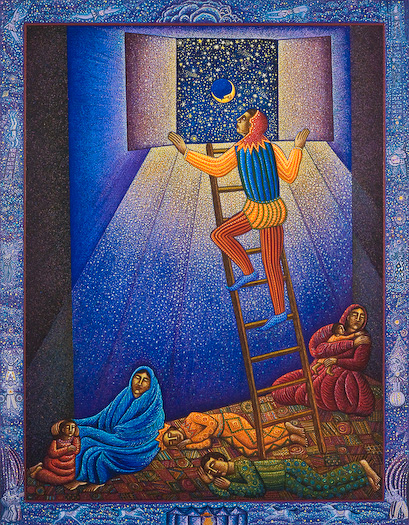 John August Swanson
HAND-PRINTED SERIGRAPHS

Jester
John August Swanson's Jester is inspired by his love of the circus and his belief that the jester, the fool and the harlequin are wise and creative visionaries. John reflects on creating Jester, saying, "The theme developed from my earlier drawings and paintings of the Dream of Jacob. I wanted to give the feelings of dreams and imagination a visual form and show them as the inner creative source of our lives. I also wanted to include in this the spiritual theme of the fool and the dreamer, which is part of many traditions. It references the scriptural passage "God has chosen what the world holds foolish so as to embarrass the wise."
2001 | Edition of 220 | 35 Color Stencils
Image Size: 26" x 20"
Paper Size: 32" x 26"
Paper: 100% cotton rag, acid free
Free Shipping in Continential US!
Serigraphs delivered in 2-3 days, USPS, Insured, Signature Required
For any questions, or to learn more about John's art,