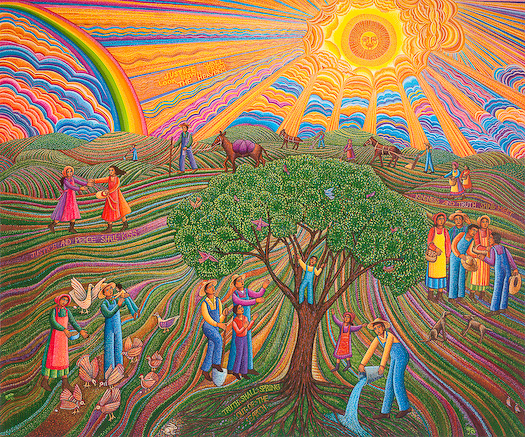 John August Swanson
HAND-PRINTED SERIGRAPHS

Psalm 85
John August Swanson's serigraph of Psalm 85 illustrates the hope and the promise of God extolled in the psalm: "Justice and Peace shall kiss, Truth shall spring out of the earth. Kindness and Truth shall meet, Justice shall look down from the heavens." John writes, "Each year when the verses from Psalm 85 were read in the liturgical service, I would visualize the poetry of the words, the hope they made me feel about living. The opportunity to hear and read these words, leads us from reverence to restoration and refreshes our spirit."
2003 | Edition of 250 | 51 Color Stencils
Image Size: 24" x 29"
Paper Size: 30" x 36"
Paper: 100% cotton rag, acid free
SOLD OUT
For any questions, or to learn more about John's art,