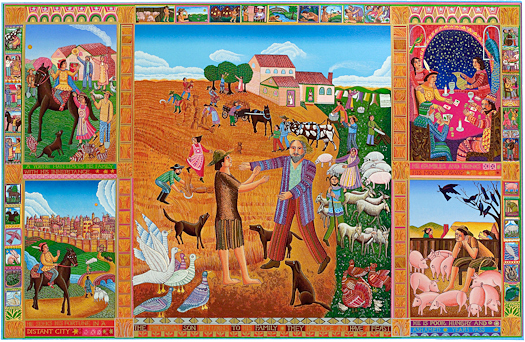 John August Swanson
HAND-PRINTED SERIGRAPHS

Prodigal Son
John August Swanson's serigraph of Prodigal Son beautifully illustrates Jesus' well know parable from Luke 15:11-32. Inspired by the narrative painting of 18th and 19th century Sweden, John portrays the story of the Prodigal Son with five panels, each depicting a stage in the Prodigal's journey. It explores the themes of greed and regret, sin and redemption, jealousy and acceptance and most importantly, compassionate forgiveness. For, as the father said, "this son of mine was dead and is alive again; he was lost and is found."
1984 | Edition of 150 | 69 Color Stencils
Image Size: 23" x 35.5"
Paper Size: 30" x 42"
Paper: 100% cotton rag, acid free
Contact us for Price & Availability