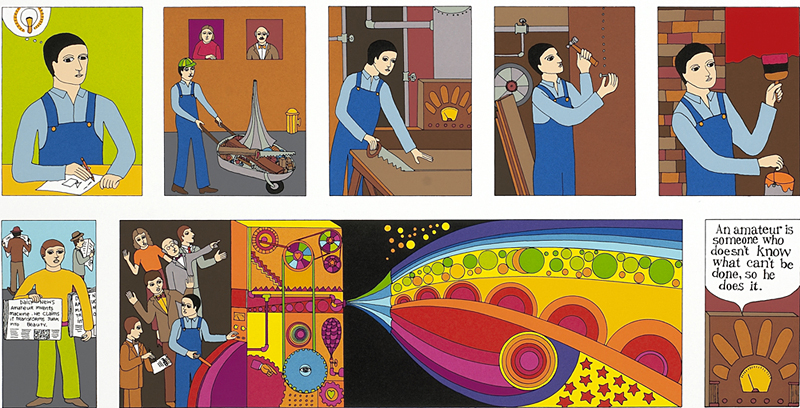 John August Swanson
HAND-PRINTED SERIGRAPHS

Inventor
John Swanson routinely admits to feeling like an amature even after four decades as an artist. In his serigraph Inventor, John summarizes the work of the artist and the humility he feels every time he works. The 8 panels present an artist, as the newspaper headline announces, who claims to have invented a machine that transforms junk into beauty. Juxtiposed between this claim and the last panel, Swanson presents the young inventer working and draws the beauty that emerges as swirling colors, spheres, concentric circles and stars. The last panel reports, this time through an old radio, that "an amateur is someone who doesn't know something can't be done, so he does it."
1975 | Edition of 100 | 27 Color Stencils
Image Size: 11.75" x 23.5"
Paper Size: 16" x 28"
Paper: 100% cotton rag, acid free
Free Shipping in Continential US!
Serigraphs delivered in 2-3 days, USPS, Insured, Signature Required
For any questions, or to learn more about John's art,