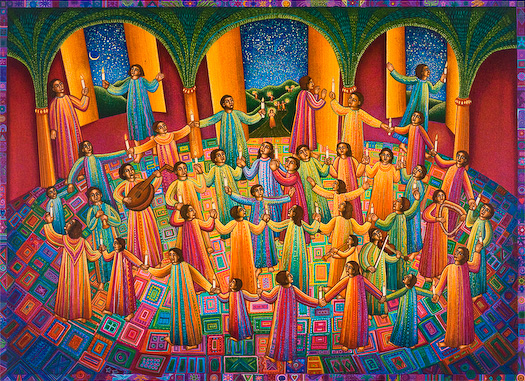 John August Swanson
HAND-PRINTED SERIGRAPHS

Celebration
John August Swanson's serigraph Celebration is a joyful portrayal of people uniting in praise and worship. Celebration is inspired by the ethnic dances of the Middle East, Russia, Mexico, Africa, India and the sacred dances of the Native Americans. It reflects John Swanson's love of communal gatherings the world over. The colorful style and complex composition create a beautiful image that commemorates the joy of the human spirit. As the musicians play, the people unite, holding candles up in a festive dance of jubilant celebration.
--- SOLD OUT ---
1997 | Edition of 250 | 50 Color Stencils
Image Size: 22" x 30"
Paper Size: 28" x 36"
Paper: 100% cotton rag, acid free
--- SOLD OUT ---