Solomon Raj |
Seeing with Indian Eyes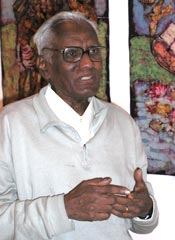 Dr. P. Solomon RAJ was born son of a village mission schoolteacher in the West Godavary district of Andhra Pradesh. He is a Lutheran Theologian from India which wrote his Ph.D. thesis on an indigenous church in India. Solomon RAJ is not only a tehologian but also an artist. His outstanding batiks and wood-cuts have been shown in numerous expositions in Germany, Britain and the USA.
Dr. RAJ trained first as a free lance artist with Ramarao School of Arts in Rajahmundry, and later in the Indiana University School of Arts graduate program. A member and past president of Indian Christian Arts Association, he was also a member of the Asian Christian Arts Association, Kyoto City, Japan in 1992. During this year he received an ACAA Scholarship to study Japanese wood block printing.
Education:
- B.Sc. Andhra University
- B.D Serampore University India (William Carey Uni.) studies in Gurukul
- Lutheran Theological college, Chennai
- MS. (Education) Indiana University, Bloomington Ind.USA
- Ph.D. Birmingham Uni.UK, (History of Indigenous Churches in India)
- Thesis published by Peter Lang Verlag Frankfurt

Ordained 1956 in Andhra Lutheran Church, a mission of the LCA and Augustana branch


Jobs held:
- Student's Chaplain, Andhra Christian college 1956-60
- Asst. Director, Luthergiri theological college
- Field Director, AV Education National Christian council, 1960-67
- Director, Christian Broadcasting studio (LWF station related of Addis Ababa) 1961-76
- Lecturer, Inter-cultural Communications, Selly Oak Colleges, UK 1976-86
- Artist in Residence, USA-Lenoir Rhyne College, N.Carolina, Luther College
- Nebraska, Bethany College, Lindsborg KA 1986-87
- Artist in Residence, St Andrew Theological College, Manila 1990-92
Main Activities: Artist Author, Researcher in Arts Faith and Culture, Member of the Fellowship of Indian Missiologists, Member of the International Association of Missiology, Member of the Asian Christian Arts Association, past president Indian Christian Arts Association, member of several Arts Academies, India
Published works: A Christian folk Religion in India, Peter Lang, New Wine Skins, history of the Indigenous Christian Missions in India ISPCK, India, Living Flame and Springing Fountain (art and meditations) ISPCK, Fiery Wheels, Art and meditations, Liberation in Luke's Gospel color prints and meditation, Several Dance and Musical plays in TeluguLanguage and other poetical works.