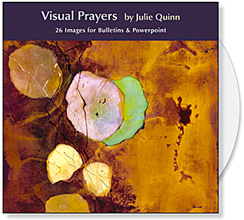 Visual Prayers CD
by Julie Quinn

Abstract Art as a Creative Expression of Faith
Julie Quinn uses the forms of calligraphy as her prayer language and her work becomes a creative act of praise. She uses color, shape and surface to create beautiful abstract images that resonant with a rich, spiritual energy. To Julie, art is a visual prayer, an artistic dialogue with God. Her abstract Christian art explores the intangible dimensions of faith and belief with great beauty and insight.
CD CONTENTS:
• 35 Images of Original Art
• Formatted for Powerpoint & Bulletins
• Artist Statement by Julie Quinn
Visual Prayers CD
by Julie Quinn
$ 69.99
CD will be delivered in 2-4 days
Download Link for CD
emailed after purchase
Questions: ContactUs@eyekons.com


Contact us to learn to more about Eyekons CD Collections.